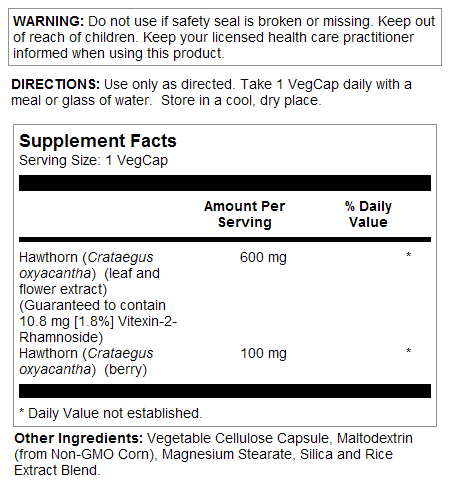 Product Description
Maintain Heart Health with Hawthorn
Hawthorn is a shrub native to northern Europe. Its red fruit has been used for culinary and medicinal purposes for centuries. The hawthorn berries contain phytonutrients, which are antioxidants that may strengthen blood vessel walls. Berry and leaf extracts are believed to have a tonifying effect on the heart and vascular system. Hawthorn continues to be studied for its effects on the heart and blood vessels.
Solaray offers a natural supplement called Hawthorn One Daily that supports heart health.
Product Information
Contains pure hawthorn extract
Provides healthy heart support
Supports proper blood circulation throughout the body
Helps vital organs function properly
Guaranteed potency
No ingredients other than those on the label have been added to this product.
If you're looking for a natural supplement that supports heart health, check into Solaray's Hawthorn One Daily. Order online today!
Nutrition Facts
Supplement Facts
1 capsule contains:
Hawthorn (Crataegus oxyacantha) 600mg
---(top branches with flowers extract) (Guaranteed 10.8mg [1.8%] vitexin-2-rhamnoside)
Hawthorn (Crataegus oxyacantha) (berry) 100mg
Other Ingredients: maltodextrin, gelatin capsule, cellulose, magnesium stearate and silica.
Recommended Use:
Adults: Use only as directed. Take one capsule daily with a meal or glass of water.
Warning:
If you are pregnant or nursing, please consult your healthcare professional before using this product. Keep out of the reach of children.
Omega 7 Eye Relief.
I give this product a 5 star rating. I love the way my eyes feel. This product has taken away the dryness and itchiness which I associate with allergies! Thanks Bryan for suggesting this product!!
DISCLAIMER: Product reviews are provided for informational purposes only and reflect solely the views and opinions expressed by the contributors and not those of the Sunflower Shoppe. Sunflower Shoppe does not verify or endorse any claims made in these reviews. These products are dietary supplements and are not intended to diagnose, treat cure or prevent any disease. Reviews are not intended as a substitute for appropriate medical care or the advice of a physician or another medical professional. The information and statements regarding the dietary supplements have not been evaluated by the Food and Drug Administration. If you have a medical condition or disease, please talk to your health care provider. If you are currently taking a prescription medication, you should work with your health care provider before discontinuing any drug or altering any drug regimen, including augmenting your regimen with dietary supplements. Do not attempt to self-diagnose any disease or ailment based on the reviews and do not use the information contained herein for diagnosing or treating a health problem or disease. Proper medical care is critical to good health.