Double-strength EPA+DHA for increased omega-3 
   benefits in fewer soft gels

Supports a healthy heart*
Our most popular concentrate, Ultimate Omega® offers therapeutic support for both body and mind. Without solicitation, doctors and researchers worldwide consistently choose and recommend this powerful formula. Concentrated Ultimate Omega delivers more omega-3s per serving than most other omega-3 products and has been shown by original research to support healthy glucose levels, healthy lipid levels in professional athletes, bronchial health, and the body's ability to respond to stress in a healthy way
Suggested Use:
Two soft gels daily, with food, or as directed by your health care professional or pharmacist. For ultimate support, take two soft gels with food twice daily.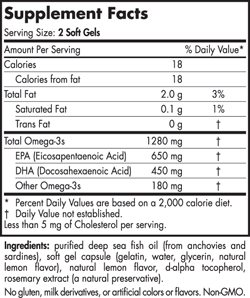 "
F-A-S-T Shipping!
I was very pleased to learn that I could order my Nordic Natural Ultimate Omega online and not have to pay shipping with a minimum order. It would have taken me over an hour to drive there and back! Very pleased customer.
DISCLAIMER: Product reviews are provided for informational purposes only and reflect solely the views and opinions expressed by the contributors and not those of the Sunflower Shoppe. Sunflower Shoppe does not verify or endorse any claims made in these reviews. These products are dietary supplements and are not intended to diagnose, treat cure or prevent any disease. Reviews are not intended as a substitute for appropriate medical care or the advice of a physician or another medical professional. The information and statements regarding the dietary supplements have not been evaluated by the Food and Drug Administration. If you have a medical condition or disease, please talk to your health care provider. If you are currently taking a prescription medication, you should work with your health care provider before discontinuing any drug or altering any drug regimen, including augmenting your regimen with dietary supplements. Do not attempt to self-diagnose any disease or ailment based on the reviews and do not use the information contained herein for diagnosing or treating a health problem or disease. Proper medical care is critical to good health.