Great for babies 5-35 lbs



Made from 100% wild Arctic cod



Measured dropper for easy addition to formula
or food



Supports healthy brain, eye, and nervous
system function*


Made exclusively from our Gold Standard Arctic Cod Liver Oilª, Nordic Naturals Baby's DHA is a safe and effective way to ensure that growing babies get the DHA they need for healthy development.* Like all Nordic Naturals fish oils, Baby's DHA is third-party tested and surpasses strict international standards for purity and freshness.
Suggested Use:
| | | | |
| --- | --- | --- | --- |
| Body Weight     |   |   | Dose |
|   |   |   |   |
| 5–10 lb |   |   | 1.0 mL |
| 11–20 lb |   |   | 2.0 mL |
| 21–25 lb |   |   | 3.0 mL |
| 26–30 lb |   |   | 4.0 mL |
| 31–35 lb |   |   | 5.0 mL |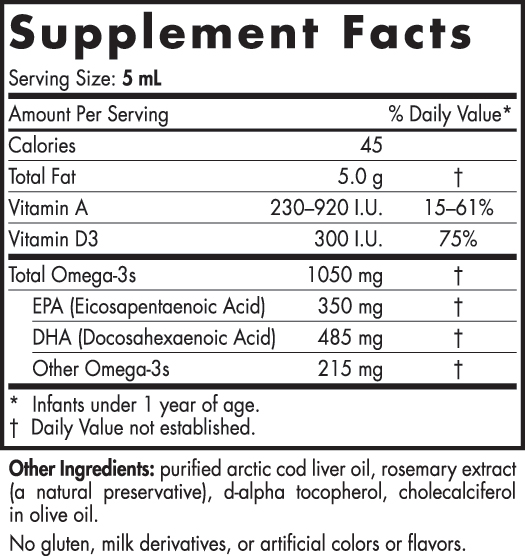 "
5 x BABYS DHA with VITAMIN D3 2 FLUID OUNCES
Everything was great about this order!
DISCLAIMER: Product reviews are provided for informational purposes only and reflect solely the views and opinions expressed by the contributors and not those of the Sunflower Shoppe. Sunflower Shoppe does not verify or endorse any claims made in these reviews. These products are dietary supplements and are not intended to diagnose, treat cure or prevent any disease. Reviews are not intended as a substitute for appropriate medical care or the advice of a physician or another medical professional. The information and statements regarding the dietary supplements have not been evaluated by the Food and Drug Administration. If you have a medical condition or disease, please talk to your health care provider. If you are currently taking a prescription medication, you should work with your health care provider before discontinuing any drug or altering any drug regimen, including augmenting your regimen with dietary supplements. Do not attempt to self-diagnose any disease or ailment based on the reviews and do not use the information contained herein for diagnosing or treating a health problem or disease. Proper medical care is critical to good health.