Product Details
Guarana continues to receive acclaim in the health food market as a natural herbal energizer of the first rank. The lightly roasted guarana seeds imported from South America by Body Dynamics have a well-noted ability to help overcome fatigue.* Guarana is indigenous to Brazil and Uruguay, where it had been revered for centuries by tribes along the Amazon because it promotes greater mental alertness and increased physical stamina.* Brazilian miners drink a tea made from guarana seeds as a daily practice. Guarana is also the basis for a popular soft drink in Brazil.
Guarana provides energy in a safe, organic way for times when an extra boost is necessary. It contains the naturally occurring stimulant, guaranine, an alkaloid similar to caffeine in molecular structure. No other caffeine is added to our all-natural Guarana Energizer, which is free of any artificial processing.
Aloe Vera soothes stomach irritation and heals internal organs and tissues. It acts as a cathartic, cleansing the intestines of undigested food particles and mucous.* Excessive consumption of guarana is not recommended, of course, but when that dramatic surge of energy, endurance and vitality is called for, Guarana Aloe Energizer is here to make the difference, naturally, from Body Dynamics.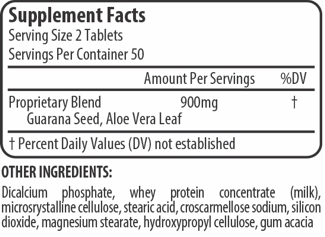 DISCLAIMER: Product reviews are provided for informational purposes only and reflect solely the views and opinions expressed by the contributors and not those of the Sunflower Shoppe. Sunflower Shoppe does not verify or endorse any claims made in these reviews. These products are dietary supplements and are not intended to diagnose, treat cure or prevent any disease. Reviews are not intended as a substitute for appropriate medical care or the advice of a physician or another medical professional. The information and statements regarding the dietary supplements have not been evaluated by the Food and Drug Administration. If you have a medical condition or disease, please talk to your health care provider. If you are currently taking a prescription medication, you should work with your health care provider before discontinuing any drug or altering any drug regimen, including augmenting your regimen with dietary supplements. Do not attempt to self-diagnose any disease or ailment based on the reviews and do not use the information contained herein for diagnosing or treating a health problem or disease. Proper medical care is critical to good health.