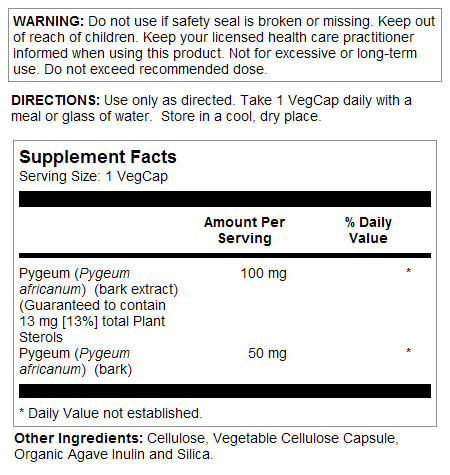 Solaray Pygeum One Daily Description
Guaranteed Potency
One-Month Supply
---
Directions
Use only as directed. Take one capsule daily with a meal or glass of water.
Supplement Facts
Serving Size: 1 Capsule
Servings per Container: 30
Amount Per Serving
% Daily Value

Pygeum (Pygeum africanum) (bark extract) (guaranteed 13 mg [13%] total sterols)
100 mg
*

Pygeum (Pygeum africanum) (bark)
50 mg
*
*Daily value not established.
Other Ingredients: Cellulose, gelatin (capsule), magnesium stearate and silica.
Warnings
In traditional African medicine, a tea made from the powdered bark of a tall evergreen tree (Pygeum africanum) is sipped to control urinary disorders in men. Today, pygeum is a popular herbal supplement in several parts of the world for benign prostatic hyperplasia (BPH), an enlargement of the prostate gland that can cause urination problems. This harmless condition affects most men over age 50, commonly causing urinary problems.
Pygeum has been approved for treating mild to moderate BPH in Europe since the early 1970s. The bark appears to work by reducing inflammation, promoting urination, and ridding the prostate of cholesterol deposits that can occur with BPH. Symptoms of prostate problems may ease as a result. Pygeum's use in treating impotence and male infertility has also been explored.