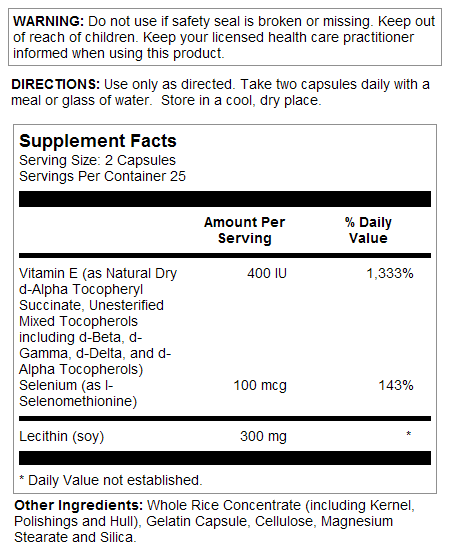 Enjoy the benefit of natural antioxidant activity without worrying about digestive side effects with Solaray's Dry E 200 IU.
Vitamin E is an essential nutrient that provides a range of health benefits both inside and out. Unfortunately, many supplements that contain this antioxidant-rich vitamin are formulated with oils and fats that are not well tolerated by all adults. Solaray's Dry E 200 IU delivers the antioxidant protection of vitamin E in a dry powder capsule to help eliminate the probability of digestive problems. This is a special formula that blends E tocopherols.
Dry E 200 IU is one of many excellent supplements for antioxidant protection from Solaray. Order yours today.
DISCLAIMER: Product reviews are provided for informational purposes only and reflect solely the views and opinions expressed by the contributors and not those of the Sunflower Shoppe. Sunflower Shoppe does not verify or endorse any claims made in these reviews. These products are dietary supplements and are not intended to diagnose, treat cure or prevent any disease. Reviews are not intended as a substitute for appropriate medical care or the advice of a physician or another medical professional. The information and statements regarding the dietary supplements have not been evaluated by the Food and Drug Administration. If you have a medical condition or disease, please talk to your health care provider. If you are currently taking a prescription medication, you should work with your health care provider before discontinuing any drug or altering any drug regimen, including augmenting your regimen with dietary supplements. Do not attempt to self-diagnose any disease or ailment based on the reviews and do not use the information contained herein for diagnosing or treating a health problem or disease. Proper medical care is critical to good health.