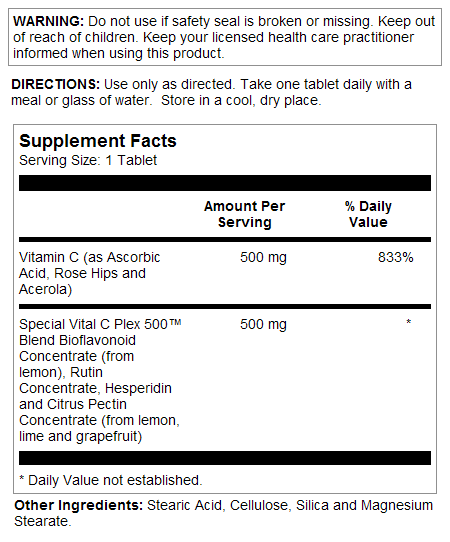 Description
Vital C Plex 500, with citrus concentrates, Rose Hips and Acerola, dietary supplement.
Size
100ct 500mg
Directions
As a dietary supplement, take 1 Tablite supplement once or twice daily with meals or a glass of water.
Serving Size
1 Tablet 100 Servings per container
Ingredients Amount per serving % Daily Value
Special Vital C Plex 500 Blend, from Citrus , Rutin Concentrate, Hesperidin and Citrus Pectin Concentrate Bioflavonoid Concentrate from Lemon, Lime and Grapefruit 500 mg
Vitamin C as Ascorbic Acid, Rose Hips, Acerola 500 mg 833%
Key to Ingredients
= Daily Value not established.
= Percent Daily Value is based on a 2,000 calorie diet.
= Values differ depending on age
= Values differ depending on age
Other Ingredients
Stearic acid, cellulose and magnesium stearate
DISCLAIMER: Product reviews are provided for informational purposes only and reflect solely the views and opinions expressed by the contributors and not those of the Sunflower Shoppe. Sunflower Shoppe does not verify or endorse any claims made in these reviews. These products are dietary supplements and are not intended to diagnose, treat cure or prevent any disease. Reviews are not intended as a substitute for appropriate medical care or the advice of a physician or another medical professional. The information and statements regarding the dietary supplements have not been evaluated by the Food and Drug Administration. If you have a medical condition or disease, please talk to your health care provider. If you are currently taking a prescription medication, you should work with your health care provider before discontinuing any drug or altering any drug regimen, including augmenting your regimen with dietary supplements. Do not attempt to self-diagnose any disease or ailment based on the reviews and do not use the information contained herein for diagnosing or treating a health problem or disease. Proper medical care is critical to good health.